FREE ANSWERS: Ask and The More Customers Guy Will Answer
45 Year Business Veteran Provides Direct Answers To Your Questions
John Wright, also known as The More Customers Guy, is well known as a business mentor and for his very wide range of business experience over the past 45 years.
Why Spend Valuable Time Helping Small Businesses?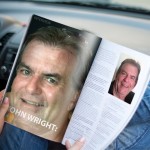 John Wright, also known as the More Customers Guy, was asked recently why he took so much time out from his business to help fledgling businesses.
"It's about paying it forward," Wright said.
"While still very young I had an immense amount of really valuable help from experienced businessmen much older than I, older men who were at the peak of their business careers.
"These guys befriended me and gave of their valuable time and experience to help out in my early business operations."
John Wright also explained how his mentors of so may years ago were still very involved in the business world.
"One of them just this week bought $950 billion of overseas finance into the country, to finance a massive private health project," he said.
The More Customers Guy wants to continue in the same vein.
If you have a question about any aspect of your business, ask it right now . . . use our handy form right here.
Ask Whatever Business Question You'd Like John to Answer
What Makes John Wright's Advice Valuable?
Experience. John Wright has spent the last 4½ decades helping businesses, small and large, including:
Professional Photography
Commercial Printing
Local Newspaper experience - owned and operated
International newspaper experience - APN ProvNews
Print media advertising campaigns
Direct Marketing campaigns
Large clients like Jim Beam, Australian Naturalcare, Thursday Plantation, Bond University
Small clients from Northern New South Wales, Gold Coast/South-East Queensland and all around Australia
Website Design and Construction
Search Engine Optimisation and Marketing
Social Media Marketing
Video Marketing