Too Busy to Run Your Business Blog Properly?
A brutal reality of life is that you get nothing from nothing, but with our Facebook Power Publisher, you only need to do the bare minimum – use Facebook – and our Publish Anywhere system takes care of the rest.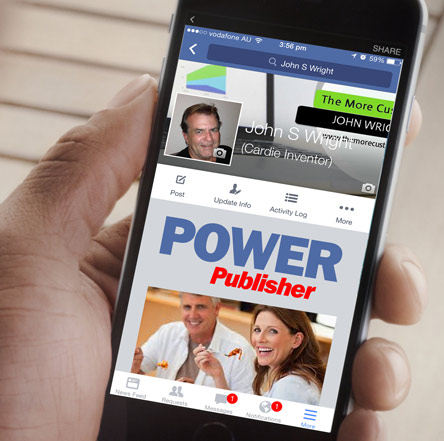 Yes that's right. Instead of creating content on your website, and setting things up so that it will appear on your Facebook page, we've flipped the whole process on its head.
Not many business owners out there have time to get into the back end of their website and add regular fresh, new blog content.
You're too busy working on your business, right?
But regular fresh new content is what Google wants.
Everyone's got a Facebook account – or at least has a family or staff member who does . . . isn't that the truth?
It couldn't be simpler – take a photo on your mobile phone, type in a few words, and publish it to your Facebook account . . . then Facebook Power Publisher does the rest!
Our Facebook Power Publisher operates on auto pilot – publishing your content on your website where Google can see it.
And all you need to do is use Facebook! (or have someone who can use it for you) . . .
Let's use a restaurant as an example. One of the waitresses snaps a shot of a couple celebrating their wedding anniversary in the restaurant.
She then gets their names and anniversary details, and published it to the restaurant's Facebook page.
It automatically appears on the restaurant's website.
Immediate fresh, new content right there ready for Google's web bots to find it.
Call John now 0414 955 743, or use our handy contact form