Search Engine Marketing success means you can cut your other advertising in half.
Imagine how much you normally spend on your newspaper, phonebook, TV and radio advertising. Now calculate how much you can save if you cut your current advertising in half.That's how much you can save with Search Engine Marketing.
That's exactly what Bob Lye from Balloon Aloft is now able to do.
Check out these results:
KEY FACTS

Over 90% of Australian web searches are on Google.
Because of our experience in other media we can show you how to get your Search Engine Marketing for FREE.
Stop wasting money. Advertise to people already looking for what you provide.
If you aren't landing Top 10 in Google, your competition is.
It's easy, fast and painless to begin your Search Engine Campaign today.
Contact Us or call John 0414 955 743
What you can see here are the TEN popular search terms we identified for Balloon Aloft. These are search terms that are relevant, current and which real Australians are using when they search for a hot air balloon ride on the Gold Coast.
The numbers inside the red section are the positions of the BalloonAloft.net website when this Search Survey was conducted on August 9, 2010.
There's no reason why your own business can't enjoy ongoing success like this, with an effective Search Engine Marketing campaign by Guaranteed Webs.
And it's so much less outlay than conventional advertising.
ADVERTISING COMPARISON SAMPLE
Let's say you are in the carpet business. And let's assume you run a 10cm x 3 column advertisement in the local Saturday paper.
You'll be paying the newspaper to take your message out to its perhaps 100,000 readers.
And it will cost you around $2000 to $3000 per month.
But your main problem with this is that there are only around 200 potential carpet customers on any given day that the newspaper runs your advertisement.
In effect, you are paying your newspaper to deliver your message to 100,000 people in the hope that a few of the 200 actual carpet customers will find you.
Search Engine Marketing is very much different.
With Search Engine Marketing you pay just $680 research and setup then $460 a month.
That frees up a whole lot of your capital for other things, doesn't it?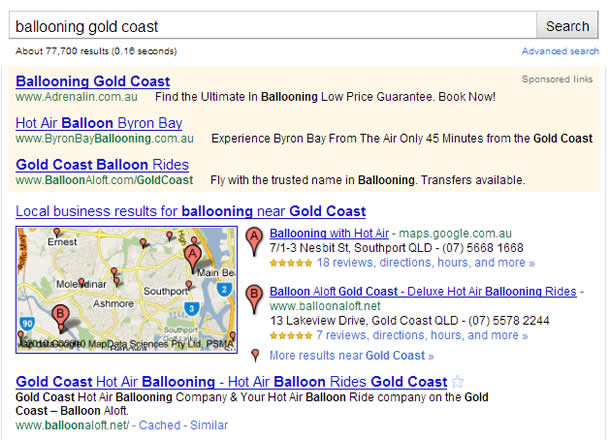 On a search results page in Google, the results in the creamy background are paid advertisements run by Google themselves — even THEY know it's a waste of money advertising the old way . . .