Combine Features AND Benefits to Increase Your Sales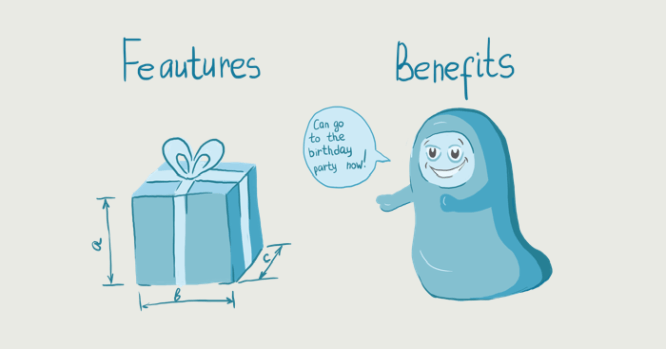 A big mistake that marketing novices make is focusing on the features of their products or services, instead of on the benefits.
Features are what your product or service is or has.
Benefits are what those Features will do for your customers.
For instance the 'features' of a coffee cup might be:
Feature 1: Large size
Feature 2: Ergonomically designed handle
Feature 3: Can be used in a microwave
Feature 4: Thermal design
Feature 5: Personalised with your name
Feature 6: Large, stable base
Now, here's what those Features mean to your customers.
Benefit 1: Large size means you have to fill up less often
Benefit 2: Ergonomically designed handle makes it comfortable for you to hold
Benefit 3: Can be used in a microwave means you can heat up your drink instantly
Benefit 4: Thermal design means your drinks will stay colder or hotter longer
Benefit 5: Personalized with your name means others won't use your cup
Benefit 6: Large, stable base means no spills
People don't buy 5 mm drills. They buy 5 mm holes.
They buy what your products and services can do for them.
Don't assume that your customers know what each feature of your product or service will do for them. Spell those benefits out in simple terms that they can relate to.
Focusing on benefits is a powerful way to get the attention and interest of your very best prospects and customers.
---
If you want to talk over these Get More Customers options, or the others I have up my sleeve, give me a call 0414 955 743 – advice is totally free of charge.
Cheers,



John